Course details
★ Loose Satisfaction Course 3H 9 Drinks and Drinks 9 4500 yen Melito delightfully delightful in hot seasons All-you-can-drink OK!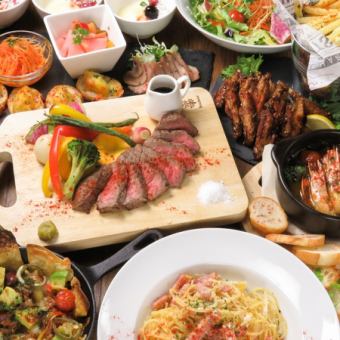 By using a coupon4500 yen
All-you-can-drink available

All you can drink beer including draft beer is about 100! Enjoy electric balls highballs and rich cocktails ♪ We also accept drinks not in the menu.(There are times when I refuse for all you can drink)
Reservation deadline

Visit of hope the day before until 23:00
Available days for reservation

Monday - Sunday - Public holidays - Holidays
All-you-can-eat dishes on 10 items are relaxingly 3 hours.It is recommended for those who want to talk with friends ♪ happy mojito all you can drink OK!
Course menu
● Antipasto Mist
· Sakurayama pickle
· Bruschetta with white lever
Salted ripening salmon
· Jamon Serrano
· Two kinds of olive
Carrot la Paix
● Assorted cheese
● Saute of anchovy and colored vegetables
● Placaya salad
Duck Roasted Carpaccio
● Fish & Chips
● Ahijyo with a caught shrimp
● Steaks of prefectural cattle thigh meat with red wine soy sauce sauce
● Rugoo spaghetti with domestic beef streak meat
● Maple cinnamon baked waffle
※ The contents may be changed without notice depending on the food ingredient purchase situation.
All-you-can-drink menu
·beer
Asahi Super Dry
·soft
· Oolong tea iced tea green tea cola ginger ale lemon soda and all 12 kinds
Whiskey / highball
· Black Nikka Clear / High Bowl Lemon High Ball Cork High Ball Ginger High Ball
Shochu
· Shochu variety / Black Kirishima (potato) / Nikaido (wheat)
Beer cocktails
· Chandigafu Red Eye Cassisvia and all 6 species
· Wine / Vermouth
· Red White Rose / Tinzano Rosso Tinzano Dry
Wine Cocktail
· KILL Kitty Operator KALIMOCHO and all 8 kinds
·Cocktail
· Cassis Orange Reggae Punch Strawberry Milk Gin Tonic Lamb Back and all 52 kinds
And electrical Blanc
· Kaminari Hibow Kaminari Cork Kaminari Ginger Kaminari Tonic
2018/09/18 update